We have tried to compile a list of those of our classmates who are no longer with us. No doubt, we have missed some names here. If you are aware of additional names, please feel free to add them to this memorial page.

If you wish to say something about any of these classmates, please click on the "Add a Tribute to..." link.
---
Sort by:
March 22nd, 1950 - August 10th, 1981
December 20th, 1949 - January 15th, 2017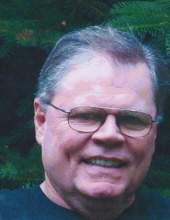 Obituary
Obituary for Ronald Dirker
Ronald E. Dirker, of Brighton, died peacefully on January 15, 2017, surrounded by his family after a valiant battle with cancer.

He is survived by his wife of thirty five years, Denise; son, Nicholas and daughter, Kristina; his mother, Marian; brother, Jim (Debbie); his sister-in-laws, Lorna (Joe) Provonsha and Narda Ballard; his "sweetie" and canine companion, Ellie as well as nieces, nephews, extended family members and many dear friends.
Tribute

From Claudia Ivey on March 4th, 2018
Dennis was my friend in High School, he sat next to me in my Art Class, for 2 years, and he would draw these space cats on my drawing board....we laughed a lot back then. I was in the caferteria when Mr Lakin, my art teacher came down after school, some of my friends were signing my year book, when my teacher told me and my friends about Dennis's death, I was so so shocked. My friend was his girl friend at that time, Lee Ann Moore, we all took it to bad. I graduated with Dennis, but attended another year taking business classes.
Tribute

From Claudia Ivey on March 4th, 2018
One summer Pat Farmer came over with my friend, David Moore to go back riding, after that we went bike riding several times....I remember stopping at the dairy queen with them. We laughed a lot and after that summer I didn't see him any more, I knew he lived across the street from David....I had no idea he graduated with me.
June 22nd, 1949 - February 1st, 2006
Tribute

From Claudia Ivey on March 4th, 2018
I feel so bad seeing Bill's name in this list, I didn't know. Bill was always kind. In 7th grade he was the only person in my class that didn't put me down, and I Thank him for that.
Tribute

From Bruce Casler on April 19th, 2018
Knew hurcus from grade school. Played baseball when we were in grade school and spent time after high school up in newago, michigan on his dad's farm. I looked for him after I came home from vietnam in 1973 but lost track of him. He was one of guys of our neighborhood he will be missed
Tribute

From Virginia Riddle on February 13th, 2018
I was Ken's wife for 34 years. Ken was a loving man and treated my daughters like his own. I went to school in Highland Park and graduated.
From Ron Herron on March 8th, 2018
I grew up on Woodland in Ferndale. Ken was a good friend, until my family moved in 1965 and I lost track of him. I was sorry to hear of his passing, and wish I had known more about him as an adult.
Greetings. A scroll through the "Memorial" link evoked a deluge of recollection and emotion—sainted erstwhile stepbrother, next door neighbor, and several close friends. But I can't get past Frank Ryan. Frank seemed to have based his life on the premise that we should collect and share as many anecdotes as possible. Those anecdotes fit for public revelation are forthcoming—need a little time to sort. Meanwhile, recalling the summer of '67—in San Francisco, on Plum Street, even in Ferndale, the summer of love. For us, 1967 was also the summer of Frank, who quickly eclipsed his adolescent brethren in the domain of mustache-growing. A very impressive 'stache—he looked like Clark Gable, if Gable had been a porno actor. That mustache changed our lives, for it allowed Frank to purchase beer at Helm and Lilly. No more fake ID in the name of "Bruno Bettin." No more trips, exciting as they occasionally proved, to 8 Mile or 7 Mile. In retrospect, the summer of 1967 did represent love. And alcohol. And Sgt. Pepper, Hendrix, the Grande, and other psychedelic miscellany. And weed, although we had to drive Mt. Clemens to procure. And "the Riot," which Frank and I experienced first-hand. Submitted the following essay to the Detroit Historical Society, in response to the DHS call for reminiscences and opinions regarding the events of July 1967—a vain and perhaps futile attempt to slip Frank into their archives. Need I say, more to come?


On Sunday—the day the violence erupted—Frank Ryan and I attended the Tigers-Yankees game. Heading back to the suburbs via the northbound Lodge, we observed large blankets of smoke, which Frank insisted that we investigate. We exited the expressway, parked the car, and proceeded on foot. I concealed my fear from Frank, who rightly asserted that whatever unfolded warranted observation. Commercial buildings blazed. Out of one such store a looter emerged, carrying a case of liquor. Bystanders applauded his reappearance. A fellow gawker suggested that we move away from a gas station, worried that it might "blow." The agitation—a mix of anger, exuberance, and social catharsis—instructed us in a way no textbook or newsreel could.
Frank and I interpreted that instruction differently. As reasonably well-informed adolescents, we had grown up with media imagery—Birmingham, Selma, Watts, Chicago, etc.—that shaped us, however divergently. Frank's conservative assessment of the events of the "riot" led him to predict that the exodus to the suburbs would accelerate. My liberal perspective regarding the "rebellion" considered history and causality. Thus, debate began, just hours into the process. During the ensuing half-century, historians have played semantic tetherball with the labeling of Detroit's trial by fire. But many people and institutions—black and white, rich and poor, public and private—have concentrated on the affective domain, focusing on the future and shaping positive change in the D.
What lessons might we learn from 1967? Whether one adopts the "riot" or the "rebellion" narrative, it's reasonable to assume that neglect and oppression foster resentment and anger. Presently, things continue to improve—in midtown, downtown, and other select areas—but the metamorphosis has not yet appreciably reached as far as Seven Mile. Electing and hiring honest, talented, industrious people makes for a sound general strategy. For instance, police/community rapport has improved since 1967. Kudos to Mr. Craig for this turn, but such changes depend on the commitment of employees throughout the institutional hierarchy. Are community relations now ideal? No. Are they better than in 1967? Clearly. Given the paltry starting wages, and resultant turnover, the improvement is laudable.
So, in a violent and cash-strapped city, DPD has improved from the top down and from the bottom up. But a truly comprehensive approach to Detroit's problems requires more. The support, vigilance, and cooperation of average citizens remain critical. That sort of holistic methodology will help revitalize the city, socially and economically. We must encourage business, large and small. Likewise, we should welcome gentrification, sometimes a target of chauvinism and suspicion. The active participation of pastors, parishioners, senior citizens, neighborhood groups, school organizations, etc. remains essential. Today's austere and inertial political climate, in Lansing and Washington, dictates that Detroit's renaissance must occur neighborhood by neighborhood. No constructive proposal should be summarily dismissed, within the framework of sound administrative practice. Fifty years ago, it would have been difficult to foresee a city of only 700K, where farming has become a real cultural component, and many residents call for building demolitions. Let's keep our minds and hearts open. Let's communicate, participate, innovate, and agitate. Let's turn things around, block by block. 1967, riot or rebellion, happened because many people felt excluded or victimized. Public and private leadership must work to include, and residents must step up as well. Detroiters have never been afraid of hard work—now, more than ever, it's time to get busy.

Charles Wilson Goode
Tribute

From Paul Gifford on December 3rd, 2017
See the image.
Tribute

From Mike Pernack on June 10th, 2018
Sue was born 3/12/50 Passed 9/14/08
April 27th, 1950 - June 5th, 2011
August 31st, 1949 - March 10th, 2014