We have tried to compile a list of those of our classmates who are no longer with us. No doubt, we have missed some names here. If you are aware of additional names, please feel free to add them to this memorial page.

If you wish to say something about any of these classmates, please click on the "Add a Tribute to..." link.
---
Sort by:
March 22nd, 1950 - August 10th, 1981
March 23rd, 1950 - March 4th, 2020
December 20th, 1949 - January 15th, 2017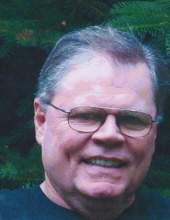 Obituary
Obituary for Ronald Dirker
Ronald E. Dirker, of Brighton, died peacefully on January 15, 2017, surrounded by his family after a valiant battle with cancer.

He is survived by his wife of thirty five years, Denise; son, Nicholas and daughter, Kristina; his mother, Marian; brother, Jim (Debbie); his sister-in-laws, Lorna (Joe) Provonsha and Narda Ballard; his "sweetie" and canine companion, Ellie as well as nieces, nephews, extended family members and many dear friends.
Tribute

From Claudia Ivey on March 4th, 2018
Dennis was my friend in High School, he sat next to me in my Art Class, for 2 years, and he would draw these space cats on my drawing board....we laughed a lot back then. I was in the caferteria when Mr Lakin, my art teacher came down after school, some of my friends were signing my year book, when my teacher told me and my friends about Dennis's death, I was so so shocked. My friend was his girl friend at that time, Lee Ann Moore, we all took it to bad. I graduated with Dennis, but attended another year taking business classes.
Tribute

From Claudia Ivey on March 4th, 2018
One summer Pat Farmer came over with my friend, David Moore to go back riding, after that we went bike riding several times....I remember stopping at the dairy queen with them. We laughed a lot and after that summer I didn't see him any more, I knew he lived across the street from David....I had no idea he graduated with me.
Tribute

From Paul Gifford on September 2nd, 2018
I got to be friends with Rick in 12th grade, although I remember him from Roosevelt, when he was a year ahead of me (I recall confusing him with Bob Turner). Anyway, he used to call me after high school, when I lived in a dormitory in Ann Arbor, debating the Vietnam War. He couldn't decide whether he was for or against it. Anyway, this great-grandson of the poet Eugene Field decided to enlist in the Navy soon afterward. He then decided he had made a mistake and went AWOL to Canada. His father then died of a massive heart attack and he was allowed a momentary reprieve. He returned but spent several months in the brig before his discharge. In 1971, I returned home from a long absence and hung around with him, doing psychedelics with him while he adjusted to civilian life. Not long afterward he went to Florida, where he stayed for the rest of his life. Around 1979 I heard that he had married and had a child, but not long after had divorced. Recently I discovered that he had died in 2006. He had always said that the men in his family all died of heart attacks by the age of 50, so he managed to outlive them by a few years.
June 8th, 1948 - June 3rd, 2020
June 22nd, 1949 - February 1st, 2006
Tribute

From Claudia Ivey on March 4th, 2018
I feel so bad seeing Bill's name in this list, I didn't know. Bill was always kind. In 7th grade he was the only person in my class that didn't put me down, and I Thank him for that.
April 9th, 1950 - June 11th, 2020
Tribute

From Bruce Casler on April 19th, 2018
Knew hurcus from grade school. Played baseball when we were in grade school and spent time after high school up in newago, michigan on his dad's farm. I looked for him after I came home from vietnam in 1973 but lost track of him. He was one of guys of our neighborhood he will be missed
Tribute

From Loretta Ash on September 19th, 2018
Sandra Lee Nieme
February 11, 1950
I met Sandy Nieme in September of 1962 when we were 12 years old. She was transferred to Taft School from Wilson School in Ferndale for 7th grade. We entered Mrs. Louise Martin's classroom. We sat next to each other, and her big smile and great happy laugh were infectious. We became friends immediately. She made me laugh throughout the years at how much Mrs. Martin liked me and my very curly hair, which was not in style with the times.
When we both turned 13 that winter, Sandy said we needed to go to Kresge's after school to get some important things they had there since we were now teen girls. We just had to find some Adler socks like Donna Stinso wore, who was cool! And the main thing we really needed now was a new device called an "eyelash curler." Sandy taught me how to hold this confusing thing with two fingers, get it over my eye...just right, squeeze down hard for several seconds to get the very longest eyelashes! Even now, 55 years later, I still 'see' Sandy in my trusty eyelash curler.
A year later in September of 1963, we were all transferred to 8th grade at Lincoln Junior High School. We stuck together as we encountered this new environment with this new adventure on 9 Mile Road. We were together on November 22nd in the somber sadness when our President was shot and then later died. The following month or so in December, and then in January of the New Year 1964, a new and very exciting band was taking us all by surprise. They were called The BEATLES!
Sandy was IN LOVE with the drummer called RINGO. The rest of us girls liked the one called PAUL. Sandy and I once again took our baby-sitting money to Kresge's to buy The Beatles' very first poster. We each bought one to tape on our bedroom walls. It cost us each 25 cents. She became so determined to see Ringo up close when she heard The Beatles were coming to Olympia Stadium in Detroit. She earned lots of baby-sitting money, went shopping for the right clothes at Kay Baum in Birmingham, got the right boots, ironed straight her long blonde hair, and most of all, she perfected her proper English accent.
She went to Olympia Stadium the night The Beatles arrived, pushed her way backstage and posed as a news reporter from Liverpool, England to interview the sensational band. So she got to see her Ringo!
Sandy made the 11:00 pm News that evening, once she was found out, and the reporter warmly shared the story of what one determined 14 year-old local Ferndale girl would DO to see her heart throb! She not only didn't get in any trouble for all her efforts, but instead that fall, her 9th grade freshman class at Ferndale High School elected her as its Homecoming Queen. Sandy Nieme and The Beatles were forever after that…synonymous!
Rest in Peace, my dear childhood friend, until we meet again. Love you always, Loretta
January 18th, 1950 - March 15th, 2019
Obituary
Tribute

From Ron Herron on March 8th, 2018
I grew up on Woodland in Ferndale. Ken was a good friend, until my family moved in 1965 and I lost track of him. I was sorry to hear of his passing, and wish I had known more about him as an adult.
From Virginia Riddle on February 13th, 2018
I was Ken's wife for 34 years. Ken was a loving man and treated my daughters like his own. I went to school in Highland Park and graduated.
Greetings. A scroll through the "Memorial" link evoked a deluge of recollection and emotion—sainted erstwhile stepbrother, next door neighbor, and several close friends. But I can't get past Frank Ryan. Frank seemed to have based his life on the premise that we should collect and share as many anecdotes as possible. Those anecdotes fit for public revelation are forthcoming—need a little time to sort. Meanwhile, recalling the summer of '67—in San Francisco, on Plum Street, even in Ferndale, the summer of love. For us, 1967 was also the summer of Frank, who quickly eclipsed his adolescent brethren in the domain of mustache-growing. A very impressive 'stache—he looked like Clark Gable, if Gable had been a porno actor. That mustache changed our lives, for it allowed Frank to purchase beer at Helm and Lilly. No more fake ID in the name of "Bruno Bettin." No more trips, exciting as they occasionally proved, to 8 Mile or 7 Mile. In retrospect, the summer of 1967 did represent love. And alcohol. And Sgt. Pepper, Hendrix, the Grande, and other psychedelic miscellany. And weed, although we had to drive Mt. Clemens to procure. And "the Riot," which Frank and I experienced first-hand. Submitted the following essay to the Detroit Historical Society, in response to the DHS call for reminiscences and opinions regarding the events of July 1967—a vain and perhaps futile attempt to slip Frank into their archives. Need I say, more to come?


On Sunday—the day the violence erupted—Frank Ryan and I attended the Tigers-Yankees game. Heading back to the suburbs via the northbound Lodge, we observed large blankets of smoke, which Frank insisted that we investigate. We exited the expressway, parked the car, and proceeded on foot. I concealed my fear from Frank, who rightly asserted that whatever unfolded warranted observation. Commercial buildings blazed. Out of one such store a looter emerged, carrying a case of liquor. Bystanders applauded his reappearance. A fellow gawker suggested that we move away from a gas station, worried that it might "blow." The agitation—a mix of anger, exuberance, and social catharsis—instructed us in a way no textbook or newsreel could.
Frank and I interpreted that instruction differently. As reasonably well-informed adolescents, we had grown up with media imagery—Birmingham, Selma, Watts, Chicago, etc.—that shaped us, however divergently. Frank's conservative assessment of the events of the "riot" led him to predict that the exodus to the suburbs would accelerate. My liberal perspective regarding the "rebellion" considered history and causality. Thus, debate began, just hours into the process. During the ensuing half-century, historians have played semantic tetherball with the labeling of Detroit's trial by fire. But many people and institutions—black and white, rich and poor, public and private—have concentrated on the affective domain, focusing on the future and shaping positive change in the D.
What lessons might we learn from 1967? Whether one adopts the "riot" or the "rebellion" narrative, it's reasonable to assume that neglect and oppression foster resentment and anger. Presently, things continue to improve—in midtown, downtown, and other select areas—but the metamorphosis has not yet appreciably reached as far as Seven Mile. Electing and hiring honest, talented, industrious people makes for a sound general strategy. For instance, police/community rapport has improved since 1967. Kudos to Mr. Craig for this turn, but such changes depend on the commitment of employees throughout the institutional hierarchy. Are community relations now ideal? No. Are they better than in 1967? Clearly. Given the paltry starting wages, and resultant turnover, the improvement is laudable.
So, in a violent and cash-strapped city, DPD has improved from the top down and from the bottom up. But a truly comprehensive approach to Detroit's problems requires more. The support, vigilance, and cooperation of average citizens remain critical. That sort of holistic methodology will help revitalize the city, socially and economically. We must encourage business, large and small. Likewise, we should welcome gentrification, sometimes a target of chauvinism and suspicion. The active participation of pastors, parishioners, senior citizens, neighborhood groups, school organizations, etc. remains essential. Today's austere and inertial political climate, in Lansing and Washington, dictates that Detroit's renaissance must occur neighborhood by neighborhood. No constructive proposal should be summarily dismissed, within the framework of sound administrative practice. Fifty years ago, it would have been difficult to foresee a city of only 700K, where farming has become a real cultural component, and many residents call for building demolitions. Let's keep our minds and hearts open. Let's communicate, participate, innovate, and agitate. Let's turn things around, block by block. 1967, riot or rebellion, happened because many people felt excluded or victimized. Public and private leadership must work to include, and residents must step up as well. Detroiters have never been afraid of hard work—now, more than ever, it's time to get busy.

Charles Wilson Goode
Tribute

From Paul Gifford on September 2nd, 2018
Whatever I tried to add before didn't take. When I was compiling the list, I discovered sadly that Stan died in 1974 while in the Navy. He was senselessly killed in a robbery attempt in Norfolk, Virginia. Someone was after someone else and he received the shot. What a shame! He was a mild, shy, harmless kid.
From Paul Gifford on December 3rd, 2017
See the image.
Tribute

From Mike Pernack on June 10th, 2018
Sue was born 3/12/50 Passed 9/14/08
April 27th, 1950 - June 5th, 2011
Tribute

From Loretta Ash on September 19th, 2018
JoAnn Lynette Mitchell
April 27, 1950 – Parents: Ellis and Leona Mitchell-Brother: Kenny Mitchell
I met "Joanne" Mitchell when we were just 3 years old in our church's nursery class in Ferndale. We started kindergarten together when we were 5 at Taft Elementary School. Our bond of friendship grew as we continued together each year in grades 1 through 7 at Taft.
Besides being friends together at church, Sunday school, and children's choirs, we also lived around the block from each other: she at 360 Farmdale and I at 745 Flowerdale. On some Saturdays while we were playing at her house, in 2nd and 3rd grades, she practiced her tap dance routines in her pretty frilly costumes and shiny black tap shoes while I watched in awe and amazement as she lifted her arms just right and made the most intriguing clicking sounds with her feet. She was polished and ready for her upcoming recital!
In the fall when we were 11, we went on a hay wagon ride out in the country with our choir group. I still have the snapshot of all of us on the wagon, including Donna Lindsay. Donna was with us too through all these earliest years at church, choirs and then at Taft. She also lived across the street from Joanne at 247 Farmdale. What a highlight it was that day in 1963, when we were 13, that Joanne's Mom and Dad allowed her to invite us kids over after school to gather in their front room around their new color television set. We all marveled and laughed with delight at seeing our favorite TV program …now in color and at their home!
And in 1964, when we were 14, I was at Joanne's when my Dad called on their telephone. Mr. Mitchell called me to their kitchen and handed me the receiver from their wall phone. I heard my Dad quietly say to come on home ..because my Grandma had just died.
Then in September, we walked together in the morning to our new school, Lincoln Junior High School, almost a mile away, with our neighborhood classmates and girlfriends, Kay Morris, Donna Lindsay and Frances Biechler. We were all supporting each other in this somewhat scary new adventure. In a few months, all we talked about on our walks together to Lincoln Junior High School was THE B E A T L E S !!!
When we were 16, Joanne wanted me to go with her to Bob Thomas' Photo Studio around the corner on Livernois to have our pictures taken professionally for our first boyfriends. We got dressed up, had our hair done and went on a Saturday morning in 1966. She was singing the words to her favorite song, "Cherish" that made her think of her boyfriend, Dave Fisher, that Ferndale High School senior guy. It was quite heart-touching to me the night that Mr. Mitchell, her dad, asked me to have my first boyfriend drive me around the corner to their house before he took me out on my first date, so he could "check him out." A lasting endearing memory is of him making the boy roll his window down and in the dark night with the street light shining on his stern, scrutinizing face, stick his whole torso through the window to discern if this guy should be able to take me out on a date! After a long, glaring stare right in the boy's face, he withdrew from the window, and said with half a smile, "I approve."
Rest in Peace, my dear childhood friend, until we meet again. Love you always, Loretta
August 31st, 1949 - March 10th, 2014
July 8th, 1950 - July 2nd, 2020